Anbaric was founded in Borås, Sweden 2016 by guitarist and composer Kimmo Komulainen. The name itself means electric and this is what Anbaric is all about; straight forward, energetic hard rock with a twist. Kimmo has long nurtured a dream to put a band together and channel his many musical ideas, both in the studio and on stage.
In 2017 the debut album "Illusion Of The Holy" was released and immediately was praised worldwide by both critics and fans. Illusion of the Holy also features Jen Majura from Evanescence on guest vocals and, as strange as it may appear, guitar hero Mattias IA Eklundh on… drums!
A crucial second, self-titled album will hit the streets 10th of October 2019. Fear not, the follow-up features an vibrant, extremely hungry band ready to take on the world. Anbaric has never been more focused and to the point.
13 groovy tracks featuring the first single "Grand Innovations", along with heavy, potent tunes as "Sisu", "Angels Falling", "Landscape of Discontent", "I Stand Corrected" and the gripping power ballad "Room 724".
Recorded by guitar virtuoso Mattias IA Eklundh, with a guest appearance by Harcore Superstar 's Jocke Berg and mixed by Martin Sandvik, this record is a must-hear. Available as 180-gram gatefold LP, CD and digital download from TSP productions.
The year of Anbaric. One new song every month
This project is something we have been excited over for some time now. There is a rewarding feeling when you get music just recorded out there, right away.
During a production of a full length album there are always dull moments when you loose interest and only see the mountain of work it takes to wrap it up. By releasing a brand new track often, leading up to an album (or two, or three), you keep the process fresh and stimulating.
You nail one tune, mix and master it, shoot a simple video and move on.
Hope you like the ride! Thank you for listening.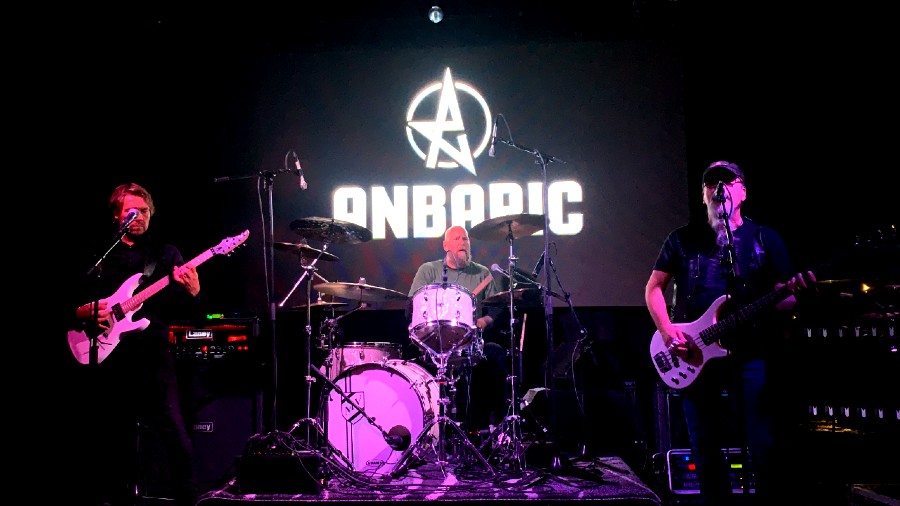 Fireworks Magazine interview
Anbaric – King of Nothing
From the album: Illusion of the Holy
www.anbaric.se
Written by: Kimmo Komulainen/PasiHumppi
Band line up:
Kimmo Komulainen – guitar
Pasi Humppi – vocals
Jari Uusitalo – bass
Timmy Hammer Sassian – drums

How did you become involved in this crazy world of music?
Kimmo: I have always had a deep interest in music but never actually gotten around to do something real about it, until now. It's been a dream for such a long time to throw myself out there, make a professional record, perform and really give it a go.
But not until this stage in my life have I been confident enough to make a stand, change my life radically, quit work and sink my teeth into this on a full-time basis. I realize it is a tough business but I need to do it to stay sane and get all the songs that's been buried inside out, to be creative and simply see where this lead. You never know…Some things in life you simply have to go for. There is no option.

Who are your musical inspirations and what was the inspiration behind the album and the songs?
Kimmo: It's one big mess, really. I listen to a lot of new music but also, needless to say, have my heroes from the past. Anbaric is fusion between a lot of things. Sure, it's rock or metal, call it what you will, but with many different elements.
Guitar wise I am very influenced by Ritchie Blackmore, Michael Schenker, David Gilmour, all the classic guitar heroes. However, my riffing style is much more contemporary with a rhythmic edge. I've heard I sound like a zillion different players, which is a good thing in the end.
Pasi, our singer, writes most of the lyrics but I have also been involved in a song very personal about my late mother. I guess life in general is the main inspiration.Pasi picks up things going on around us, stuff he experienced as well.

What are your interests outside of music?
Kimmo: As a Finnish person I am truly into sauna, playing golf, working with my house to cleans my brain and of course being with my family. Got a dog I walk with every day too. She's lying next to me as I type this, snoring. Music is always around me, everywhere I go. I live and breathe it.
Recording our tunes is like a catalyst and as crazy as it sounds I have already begun the work on album number two. Because I have to. It's a sonic itch. Every day counts, what you do with your life. Don't waste it.

Could you tell our readers about the band and what makes you different from other artists?
Kimmo: Anbaric is a hard rock band with a twist. I do think we have anidentity of our own.We may sound like an average rock/metal group at first but when you listen several times the music grows on you and you do realize there are layers and layers in the tunes, working on all sorts of levels.
We also try to think in a somewhat irregular way so you are not completely sure what is lurking around the corner… Flow and groove are also important factors, a pacing that many bands out there lack today, I think.

Tell me about the album?
Kimmo: Illusion of the Holy consists of ten intense tracks. Now Anbaric is a complete band but when we started out it was basically Pasi and myself. Mattias IA Eklundh is, believe it or not, playing drums, although he is indeed mostly known as a guitar hero.
Jen Majura from Evanescence is also doing guest vocals on two songs that she also co-wrote.Recordings begun early 2016 and continued throughout the year as the songs were gradually written. It is nice to compose stuff in the morning, go straight into the studio and make it real, manifest it in a very relaxed atmosphere. Build the album piece by piece.
I drive around with the songs in the car to figure out what works and what does not. It's a good way to cleanse your brain. No distractions (except traffic).

Where was it recorded who produced it and how long did the process take?
Kimmo: We did everything in Mattias IA Eklundh from Freak Kitchen's place in the woods outside of Gothenburg. He has this sort of a big, creative house with tons of instruments and recording gear. It is not a typical studio per se, more like a playing ground with a lot of useful stuff. Coffee, coffee, coffee (and many turns to relieve oneself in his garden), racking our brains where to tread sonically song by song and little by little we got there.
I think we all pretty much produced it. IA arranged a lot of tracks, like the order of things in the songs and also decorating it with various instruments, semi-distorted guitars and whatnot, but also left Pasi's vocals as it initially was intended as he has a strong view of what he wants to do. So, it was a co-operation, all of it. Then we mixed it in Copenhagen by Tor Bach Kristensen and Torben Schmidt fromSkagarack.
We also shot a couple of videos, Illusion of the Holy and King of Nothing, that can be seen on our YouTube channel and naturally on the usual social media pages.

What's in store for the future?
Kimmo: I am actually writing a whole lot of new songs already as I feel inspired and want Anbaric to grow. We will try to come out and play as much as we can, hopefully a lot. Anbaric live premiered the other weekend, just a few numbers, and it felt really good.
We, needless to say, have a lot to learn but are eager, ready and willing to work hard and play loud to make ourselves heard in the white noise out there. We do not take this lightly and refuse to give up. You won't get rid of us so easily.
Nicky Baldrian – Fireworks Magazine